Q&A with SCRC's New Director Petrina Jackson
Get to know the new Director of SCRC.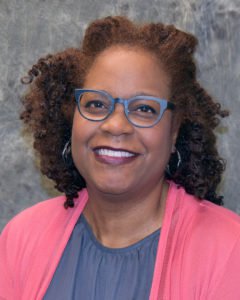 Can you tell us a bit about yourself and your new role in the Special Collections Research Center?
I am from Cleveland, Ohio, home of Lake Erie and part of the "North Coast" of America. I am a hopeful Cleveland sports fan with a great appreciation for an underdog story.
As the Director of the Special Collections Research Center, I see myself as a leader, coach, and advocate for our amazing staff and our spectacular collections. It is my responsibility to share the importance of our work as a research library and preserver of cultural heritage materials with not only the SU community, but with Central New York, the state of New York, and the World. It is my goal that we continue to build phenomenal collections, including the stories of marginalized communities to create a more accurate picture of history, while connecting with a variety of audiences to work with these collections.
What has been most exciting about living in Central New York?
Wegmans! I am kidding. It is great to be back in the Finger Lakes Region for its beauty, rich history, and diversity. I began my special collections and archives career at Cornell University and was taken by Central New York's centrality to many social movements, including abolitionism and women's suffrage. I look forward to exploring social movements and the communities and people, who dedicated their time to them, as well as the impact of ordinary and extraordinary people on the development of the region. I look forward to the living and the work ahead.
What do you like to do in your spare time?
No one would be surprised to know that I like reading, especially memoirs and biographies. I find people's lived experiences, decision-making processes, and leaps of faith fascinating. I also like watching movies of all kinds, but have a soft spot for documentaries and action films with women leads. Reality television is my guilty pleasure. I know, I know. And I could spend hours looking at non-competitive food shows. Watching the creative process and care put into making meals is so satisfying, and I love to eat! I enjoy learning about African American history, art, and culture and find drawing and crafting to be relaxing.
Why Special Collections? What drew you to the field?
Special Collections and archives is my second career. After earning my MA in English from Iowa State University, I taught English for seven years at a community college in Illinois. While there, I learned a lot about teaching and mentoring students and gained a great appreciation of the mission of community colleges. However, I thought I might die if I had to continue teaching a 5 minimum course load per semester. I went to a career counselor and librarianship surfaced as a career path. I shouldn't have been surprised since I always visited with the librarians at my community college. I started requesting and conducting informational interviews with all types of librarians (law, reference, etc.) to find out what a typical day was like, what they enjoyed most about their career, and what was most challenging about being a librarian. One day, I was reading the career stacks and came across a book entitled, Alternative Careers for Librarians. In that book, I read the profile of the Simmons College Archivist, and it was then that I knew I wanted to become an archivist. For those less familiar with the term, an archivist is someone who preserves, provides access to, and promotes records of enduring value. In short, you can call us historical records warriors or guardians of cultural heritage. I contacted the Simmons College Archivist and conducted an informational interview with her. The interview confirmed my decision to pursue archives and records management as a career. I took a leave of absence from my job, pursued a Masters in Library and Information Science with a concentration in Archives and Records Management at the University of Pittsburgh, and the rest is history. The Simmons College Archivist who accepted my informational interview request is currently the University Archivist at Harvard University.
What collection from SCRC do you think more people need to know about?
If I had to select one collection area that I would like people to know more about it would be our 19th and 20th-century social reform collections. These collections cover abolitionism, women's rights and suffrage, prison reform, civil rights, Native American rights, and more. In these collections, one can see the roots of current day movements like women's reproductive rights, prison abolition, the fight against mass incarceration, environmental justice, and civil and human rights. The activists, methods, relationships, fractures, and achievements evidence a lineage that we can learn, grow, and improve from even today.
You can learn more about SCRC's activism and social reform related collections.