Shaw Hall
Special Collections Research Center
Page featured image content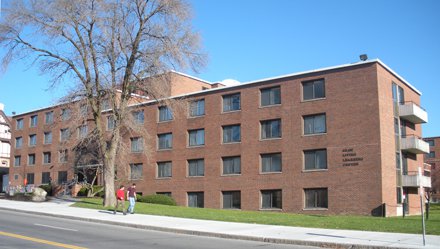 Page main body content
Construction Began: Summer 1951
Opened: September 16, 1952
Dedicated: November 16, 1952
Cost: $1,950,000
Funding: $1.5 million from estate of May Marguerite Shaw
Named for: Robert Shaw, late husband of May M. Shaw, who started in bakery business in Chicago and later became official at Union Carbide
Materials: Red brick facing; limestone trim
Architect: Robbins Conn & Lorimer Rich; King & King
Location: 201 Euclid Avenue (addressed as 775 Comstock Avenue until 2015)
Contractor: Edmund Rappoli Construction Co., Cambridge, MA
Renovation: 1988, $1 million (included renovations to Haven, Marion and Kimmel)
Addition: 1988, $2 million six-floor wing
Notes: Originally named the Robert Shaw Women's Dormitory, Shaw was scheduled to be constructed on Mount Olympus. Delays in the projects caused Chancellor Tolley to transfer the name to the current building already under construction. In 1975, Shaw was designated a Living/Learning Center due to special floors set aside for students from the same school or college in the University.
A new wing added in 1988 had appeared in the original architectural plans but was never built because a neighboring property owner refused to sell the necessary land to SU. In 1998 dining hall was renovated to become Shaw Dining Center.
2015 ended a four-year construction project with renovations that included: residence hall rooms, bathrooms, student lounges, common areas, relocating laundry facilities, and a new entrance with a new address. The official address change occurred on August 1, 2015.